Welcome
Brasserie Restaurant La Riviera is one of the oldest in Lausanne. Established in 1969 we have been serving our customers for two generations. We provide a warm welcome in a pleasant and traditional setting. Come and enjoy our beautiful terrace with views of Ouchy harbour and lake Geneva. We look forward to meeting you!
Our restaurant is open 7/7 from 9:00 to 23:00.
Enjoy our non-stop Kitchen on Sunday from 11:30 to 22:00.
Close to the City centre, it is easy to access by all public transportation. Parking is available within walking distance. Free Wi-Fi.
Due to the COVID-19 situation, our daily opening hours may be subject to changes.
We recommend to make a reservation and we thank you in advance for your understanding.
Come and have a convivial time in complete safety
thanks to our health and safety measures we introduced to protect our customers and staff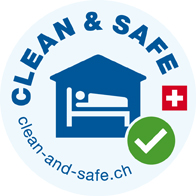 SDIO Partner (Société de Développement des Intérêts d'Ouchy)